[vc_row][vc_column width="1/2″][vc_column_text]Bath to Shower conversion  or a tub Tub to Shower Conversion | Convert Bath to Shower In today's fast-paced society, most people prefer showers as opposed to extended time sitting in a tub. A tub to shower conversion is not only a great way to update your outdated bath, but it also provides you with a lower maintenance, Tub to Shower Conversion | Convert Bath to Shower safer and more accessible bathing solution.
Additionally, all of our shower systems are created with Microban® protection, Tub to Shower Conversion | Convert Bath to Shower a Luxury Bath exclusive. This revolutionary substance actively inhibits mold, mildew and other microbes from reproducing. This provides you with a cleaner, healthier shower for the entire life of your shower system. Our high-quality acrylic showers are also custom-made to fit in the same space as your existing tub. With Luxury Bath, there's no need to take on a messy, expensive, time-consuming and stressful remodel. We have a unique system that gives you a beautiful new bathroom in about a day, at about half the cost of traditional remodeling!
CONVERT BATH TO SHOWER
No matter what the size, Tub to Shower Conversion | Convert Bath to Shower shape or level of wear and tear in your current bathroom, the team at Luxury Bath can perform a professional, affordable bath to shower conversion in less time than you thought possible. Our acrylic bath and shower systems, replacement bathtubs, wall surrounds, tub liners and more are guaranteed to last for many years to come and come in a variety of colors, styles and configurations. With so many options, it's easy to create the bath to shower conversion—without breaking the bank!
With more than two decades of experience in bath to shower conversion, Luxury Bath is the only company to call for your bathroom remodeling needs! Call us today for more information and to plan your FREE, in-home consultation.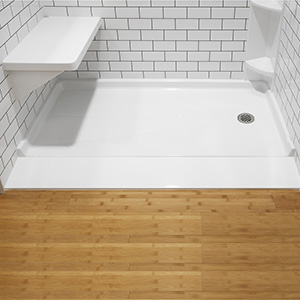 WHY LUXURY BATH
Custom
Custom Fitted
Exact measurements are taken so our bathroom renovation products fit perfectly over your existing fixtures.
One Day Remodel
Measured precisely, built by Luxury Bath, then installed in as little as one day.[/vc_column_text][/vc_column][vc_column width="1/2″][us_cform][vc_empty_space][us_single_image image="334″][/vc_column][/vc_row]